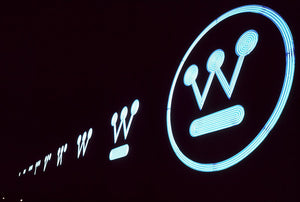 Westinghouse Animated Neon Sign
Cities will often have a defining feature that people around the world (or at least in the region) associate with the location. In Paris, it is the Eiffel Tower. Who doesn't think of Big Ben when London somehow enters the conversation? New York has the Empire State Building and Chicago has the Sears Towers (or whatever they are called now).
For years, Pittsburgh was only thought of as a steel town, dirty from the years of soot collected by belching coal fired furnaces. The city was picturesque in some ways, but the industry detracted from that. Enter the sign makers for the Westinghouse Electric Supply Company (WESCO).
The Wesco building needed a new sign. The old one was worn from 20 years of wind and storm, so the corporate heads at Westinghouse decided they needed a new sign that would create a new image. After several ideas were flushed, they came up with the idea of a sign that displayed the Westinghouse circled "W" in a computer aided neon display.
The sign had nine, 17 foot tall neon W's lined up in a vertical row. Because of the lighting divisions within each W (each individual W was made of ten separate sections), there were many different lighting configurations that could occur on the sign. The 3000 feet of neon tubing filled with Argon to give it the blue color. It was able to be lit in 120 different configurations, controlled by a computer. The sign was hung and first operated in 1967. It was the first computer-controlled neon sign ever built.
Since the building stood right behind the outfield wall of Pirates Stadium and was easily visible to downtown Pittsburgh across the Alleghany River, it became a city icon. People would remember that sign and relate it to the city of Pittsburgh.
The sign has been gone now since 1998 when a new baseball stadium was constructed on the site, but its fame lives on. Now you will remember dancing W's in the night sky of Pittsburgh and the first computer-controlled neon sign.
---