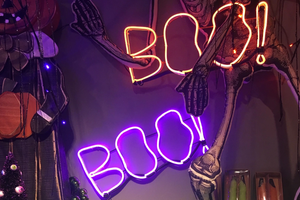 Unique Halloween Decor with Custom Neon Signs
Halloween is right around the corner, but decorations for the spooky holiday have been in stores for months, it feels like.  Spooky witches and goblins, giant inflatables, and pumpkins everywhere. Let's not even start with the candy. With almost everything being made glow in the dark or neon around this time of year, you can't help but appreciate the colors everywhere.

You'll come across many different people this time of the year -- some will decorate minimally, some over the top and some, not at all.  Decorations can range from "fall" themed with pumpkins, mums, haystacks and corn stalks to Spooktacular with tombstones, giant spiders, motion sensor witches and other creepy delights.  No matter how you choose to decorate, neon lights afford the ability to glow it up and showcase your personality.
The Spooky Neon Sign
Have you walked through any shops specializing in Halloween?  If you have, you've probably seen those creepy motion sensor dolls that look like toddlers covered in blood, wearing creepy clothes.  Or how about a giant spider that jumps out at you (also on a motion sensor)?! And the porches decorated like a scene from the movie Saw with bloody handprints and fake limbs littering the entryway!

With each of those examples, neon lights could really add to the spooky atmosphere.  Think coffins made from neon lights to accompany the creepy dolls or a vampire. Why not add a custom neon sign designed to look like a spider web to the opposite corner from where your motion sensor spider hides? Imagine your unsuspecting victim walking up thinking any spiders you may have strategically placed would be near the web and then BAM!  Out from the other side pops your giant spider! We can't leave out the creepy but classic "Beware" neon sign that would be the perfect finishing touch to a Saw style room or porch.
The Not-So-Spooky Neon Sign
Many families with small children trick-or-treat door to door on Halloween.  So, maybe you're taking that into consideration and are opting for something not so spooky this year.  There are many simple, yet modern neon signs out there that are a perfect blend of Halloween and kid friendly to decorate your home with from cute little ghosts to witches' hats and bats.  And we can't forget those cute little pumpkins! You could also opt for signs that display sayings such as "Happy Halloween" and/or "Trick or Treat". Not quite what you're looking for? Why not opt for a custom piece with your own design or favorite saying?  Picture a witch's cauldron with the saying "A witch and her two goblins live here".
The Over the Top & The Haunted Houses
Oh, the possibilities!!!  Let's start with an "Enter if you dare" neon sign.  Then they can't say they weren't warned! The term "Freak Show" brings to mind the season of American Horror Story, but perhaps you have a freak show themed area of your haunted house.  Picture the backdrop of your freak show room with a red glowing neon sign reading "Freak Show". There's always the traditional motel no vacancy signs to add to a Bates Motel theme or a "Palm Reader" sign to add to a psychic themed room.  Hollywood likes to add in a psychic/palm reader to a lot of the older horror movies after all. And no haunted house would be complete without potion bottles, a witch's cauldron, a couple of skulls and a coffin.

Let's not forget to piggyback on the ones we just talked about under the spooky decorator.  Glowing coffins and cobwebs with spiders could make great custom neon signs and would add to the scare factor for any haunted house.
The Ones Who Prefer Fall & The Minimalist
This is a no judgement zone.  You don't decorate or hand out candy to the ghouls and vampires going door to door.  That's okay. We get it. Perhaps what you're looking for is to celebrate fall. There are plenty of unique options for those who want the warm glow of neon, but not the spooky that goes with Halloween.  There are neon signs shaped like pumpkins and leaves that would complement your fall decor. Adding a glowing neon sign to your family room could be a great conversation piece. You could even add a glowing leaf or pumpkin to your powder room to delight your guests.  Keep in mind, you're not limited to a leaf or a pumpkin… there's always the option to custom design your own neon sign. You can always have your favorite fall saying turned into a custom neon sign to showcase in your home or office. "Happy Fall Ya'll" would look great in your living room or dining room glowing in your favorite fall color!
No matter the type of decorator you are when it comes to Halloween, neon signs offer a unique way to decorate and to show off your personality.  This fall, why not consider a custom option to add in some extra spook? With so many spooky (and not so spooky) options out there, creep it real this Halloween with a
custom neon sign
.
---