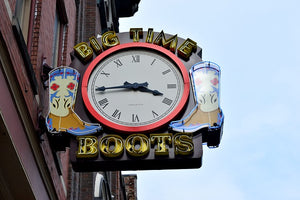 The Neon Sign Fact Sheet
Many businesses are enjoying 24-hour advertising courtesy of neon signs. With more establishments coming up each day and existing ones continually expanding, maximum publicity is ever a welcome advantage. Like every other valued medium, there are guidelines on how to make neon signs work for your business. However, it pays to understand several things for one to get the most out of this idea.

Advertising as a business component plays a vital role, and it costs money. Here's what you need to understand before getting a neon sign.

Customization
The idea of having a sign that genuinely identifies with your business and brings in more customers forms the very basis for smart advertising. Every owner wants signage that is of the right size, shape, color, and, most importantly, at the right price. Neon signs come in all manner of shapes and sizes, with over 150 colors available as well.

It is possible to get your logo turned into a custom neon sign that attracts your customers day and night. The first step is to get a template designed. A smart approach is working with several designs then choose what works best for you. If in doubt regarding your ability to develop one on your own, hand over the task to a professional designer.


Cost
Neon signs in the USA cost anywhere between $200 and $2000, with the average price being in the $600 region. Different companies may give slightly different quotations with the possibility of pricing per letter. When getting a quote, always  check if price are for a made in the USA sign. Many "neon sign" companies are simply resellers of inferior signs dumped in the US. Remain on the lookout for hidden charges. Some companies offer a complete sign packages, inclusive of design charges.

Before getting quotes, ensure that you have a candid idea of what you want, in what size, and theme. Size is particularly important, so where necessary, have a proper sense of how much space is available. Having a clear idea sets a foundation on which the designer uses to come up with your ideal design(s).

Warranty
Neon sign manufacturers often sell their products with warranties. It is advisable to go for companies that give a warranty period, and even then, get details of the scope of the cover and the duration in question. The idea is advertising that works, and it is crucial to enquire about the availability of after-sales service following your purchase. Some warranties are for service alone, and you have to purchase all replacement parts.
The smart move is to get specifics when it comes to warranties, so don't just take a glance and fall for the duration quoted. Always read the fine print.
Artistry
The creation of neon signs remains a manual process. Despite the conventional method, the results vary from one manufacturer to the other. The idea is the achievement of an end-product that appeals to the eye. Experience and skill are guaranteed variants. It always pays to have a look at previous items made by a company to get an idea of what your completed order is likely to resemble.
Materials
In all signs, the primary component is the neon tube. However, like any other material, there are variants. There are signs with LU listed elements, and some without. The electrical components in the signs also vary, which may represent a difference in overall power consumption, especially in the long term.

The materials used have a direct effect on how long your investment lasts. A  variation in the quality of glass and electrodes used may have a massive difference in how long the sign lasts. Check the advertised lifespan of each commissioned purchase you make. Check if the sign-making process utilizes technology that produces both a smoother finish and a longer life for your sign.
Shelf Life
Neon signs last for years, with the power supply in the sign managing anywhere between eight and fifteen years. The average shelf life for this advertising medium is a decade, with proper care and quality raw materials significantly extending that period. Typically, blinking lights don't last too long, as well as those experiencing power surges or outdoor signs exposed to the elements.

Luminous tubes have a similar shelf life to transformers, with some having the ability to stay on for decades. The coating in the glass lasts up to a decade, with the number of years varying according to the levels of use and brightness.
Conclusion
It is vital to understand the timelines involved when purchasing your custom neon sign. Remember, quality takes time.  Gather all the necessary information needed to design your sign. Some manufacturers have inhouse designers that can help you come up with a good template. You may also consider getting a third-party designer for the job.

Considering the longevity of service offered by this advertising tool, it is among the most affordable and a fantastic return on investment. Before making a final decision on a design or manufacturer, consider the budget as well.
---