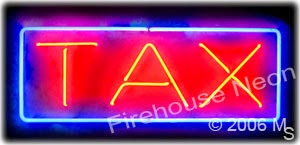 Tax Neon Signs for Year End

Tax season will soon be upon us and a bright neon sign can make all the different in attracting new clients. Your clients need to know you are open and ready to prepare their tax returns. Neon signs are time tested and one of the most cost effective methods of advertising. With all the competition from H&R Block to Jackson Hewitt to the small tax preparer, making sure your tax sign draws attention should be your highest priority.
Fire House Neon Signs
excels at making neon tax signs. Accountants know that good signage can make the difference for a business having a profitable year end or being in the red. Our stock tax signs are not really meant to branding your company as much as they are to attracting attention. We are confident you will find a neon sign that works well to promote you unique tax services.
---