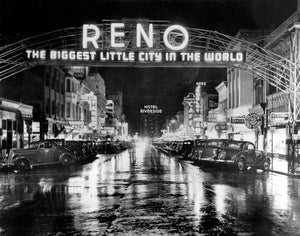 Reno's Neon Arch Still Standing
Reno may be just another city sitting next to a beautiful high desert lake to some, but to anyone who has been there since 1929 it is the "Biggest Little City in the World".
So how did Reno get so lucky as to be distinguished by this particular moniker? The city had hosted a Transcontinental Highways Exposition three years earlier during which the arch was constructed to welcome convention goers into the city. The mayor didn't want to lose the arch after the convention left so he held a contest looking for a slogan to put up there. The result was what is emblazoned across the Reno night to this day.
But "biggest little city in the world"? What does that even mean? Reno is actually a fairly large city (the second largest in Nevada outside of the Las Vegas area), so how does it rate being "little"? Maybe what they mean is that there is more to do there than in any relatively small city in the US. That would make more sense, but the neon sign probably wouldn't fit over main street.
Back to the topic…the reason they used neon for the sign was the consistency of light and the fact that it required much less maintenance. 1934, some residents complained about the new slogan and it was replaced with a green neon "RENO"; however, after the ensuing backlash over its removal, the slogan returned with new lettering.  In 1963, the original steel arch was replaced by 60s-style plastic panels and a rotating star. The third version (which stands today) was installed in 1987 and the incandescent bulbs retrofitted with LED in 2009.  The original arch from 1934 has moved around Reno over the years, but now stands on Lake Street, just south of the Truckee River.  It has lasted so long, close to 85 years now with few repair needs, because the message of the sign and the lighting used have been such a good fit for the city.
The city itself is no stranger to the liquid fire either. Reno has always been the step sister to the Vegas glitz, but both cities know how to use a few neon gas filled tubes to best effect. Just look at any picture of Reno since 1930 and it is filled with the bright lights that make any Nevada town glow. Neon signs have fueled the city since 1929 and that famous sign has welcomed all of her visitors.
---