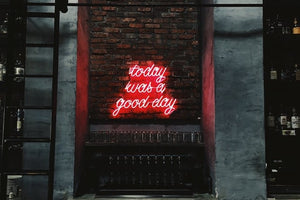 New Reasons to Love and Decorate with Neon
One word… vintage.  A top trend for 2019 and expected to be sticking around for 2020, vintage is here to stay!  And what's more vintage than some neon lights hung through the house with a favorite quote or even a piece of art.  Neon signs can be so much more than just a sign saying "open" or "closed", they can be transformed into our favorite sayings, hashtags, and yes, even art.  The vacuum tubes containing neon gas can be shaped to anything your heart desires, even to that of a face! Your personal space should be your happy place. Let your happy glow!
Vintage Look
One of the biggest home decor trends for 2019 was vintage, and it's here for the long haul.  With vintage being a top trend, how can you resist finding the perfect accent piece to showcase what makes you unique to hang in your home?!

Decorating, of course, doesn't just stop at your home.  Tell the world what makes you, you. Imagine your office space with a neon sign hanging on your wall saying #Boss, personalized with your favorite color.  Picture your wedding day, the happiest day of your life, with yours and your soon-to-be's initials in a giant heart. Or the words "happily ever after" glowing for your reception.  Now, that's a lifetime keepsake! Give your bathroom a makeover with a neon light behind your mirror or even framing it. The possibilities are endless! Creating your own custom neon sign is easier and more affordable than ever!

Home Bars and Man Caves
Another trend in recent years is having a home bar or man cave.  We may not all have space for a home bar, but chances are likely your home has a man cave, or she shed.  Neon signs play a major role in bars around the nation still, glowing bright in the window of your favorite establishment with the brand of your favorite (or not so favorite) beer.  Bringing some of those favorite brand neon signs to your home bar seems likely. You could take your home bar to the next level with your own custom neon sign, "Mike's Place" or "Tony's Pub" (insert your name).

In addition to decorating with vintage metal signs, many man caves showcase a band or two.  There are some pretty awesome neon signs out there featuring the Rolling Stones iconic tongue sticking out of a mouth.  Some have created mixed media art using neon signs layered over a painted canvas. We can't leave out one of the most iconic pieces of both bar swag mixing with the music industry - Jimmy Buffet's Margaritaville.  Picture the parrot and palm tree saying Margaritaville, or how about a beach scene with the words "It's 5 o'clock somewhere". You can even get your favorite sports team logo lit up in neon lights to decorate your space with.
Whether you want to decorate your home bar, office or game room, custom neon signs can be a great option for decorating your space. There are even options out there for you love birds ready to tie the knot, and in fact, is even a wedding trend right now. Glow on, find what makes you happy!
---