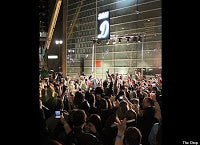 Motor City New Year's Eve - The Drop
The star of the first annual The Drop has gone. The 6 foot tall script neon D used in the inaugural edition has been replaced this year by an 8-foot tall red D using the same font as a local radio station.

The Drop, now in its second year, will turn the Compuware Atrium and Hard Rock Cafe into a destination for revelers on New Year's Eve, with food, drink, music, and dancing, in addition to dropping the D.
"The Drop was originally inspired by the core team last year with the desire to create a new tradition for Metro Detroiter's to enjoy on New Year's Eve," Matthew Severson, the founder and president of Stockbridge-based Fire House Neon, created the original "D" in neon that was dropped for the first time at midnight 2011. He was originally asked to create an Old English style D for the drop until he got cease-and-desist call from the Ilitch family, which owns the Detroit Tigers. When presented with 2 pages of MLB copyright protected Old English style D's, organizers decided to reconstruct a simple script style D on the fly.
---