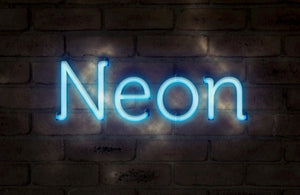 How to Design A Great Neon Sign
By creating an effective and memorable custom neon signs you can increase customer interest, knowledge and retention of your products or services. Whether you own a deli in New York, a surf shop in Malibu, or a coffee shop in Seattle, creative and eye-catching neon signs can be crucial for the growth and success of your small business. Making smart design choices can really make a difference to the effectiveness of your sign. The following are some helpful tips so you can spend your advertising money wisely on neon signs that are designed to draw your customers' attention to your storefront and create that professional image:
Make header fonts bigger to create contrast. Contrast tells the eyes where to look and says "hey, look at me".
Add a graphic image to your neon sign. Signs that display large, bold graphics in full color have been shown to draw people's attention much more than signs that don't. 

Maybe it's a graphic image with some text. Increase the size of the logo to make the contrast between the image and the font significant. Not only is the eye drawn to the super-sized image, but the small text now stands out too because it's so different from the size of the graphic.

Add a neon border. When reading a neon sign that is not defined by a border, readers tend to get lost and disinterested. Signs that are rimmed with a border help focus the readers' attention and allows them to read faster.
Use different colors. On a neon sign that displays text, displaying key information (prices, key words, etc.) in a different color increases the retention of that information by over 75%! 

For example, if you have a sign with 5 words and you want the 3rd word to stand out. Make it a different color than all the rest. Even better, make the word bigger and change the font too. Don't be afraid to take a risk. 

Stay away from decorative and funky fonts. Stick with standard fonts. They're already very beautiful and if you incorporate them into an already well designed piece… the end result is a masterpiece. To be honest, plain old Arial is one of the my favorite fonts to use when designing a neon sign.
Use a variety of contrasting colors. If the colors are too close customers will struggle to read the text and will therefore not retain the information. Also the more colorful the sign the better it will stand out. You want your neon sign to catch your customers' eye.
Pick a color scheme and stick with it throughout all your signs. Repeating the same color in a variety of places, especially in a storefront window creates repetition. You want to incorporate repetition to unify your storefront and create drama. Think of you store window as one big sign! 

Repetition shows up best when you're designing multiple signs. Now you can break this rule if you're trying to create contrast… maybe you have one sign that has a totally different graphic or is a totally different size. However, what causes the contrast is the fact that you have some repetition going on and you have purposely broken the repetition using contrast.
Neon signs are a great way to promote your business and increase customer awareness and interest in your products. 
Fire House Neon Signs
 can help you make stylistic decisions to create the right message for your business. If you're looking to separate yourself from the competition and give your business a professional and colorful edge, use these simple design tips to create eye-catching and effective neon signs to entice your customers. We also make it easy by providing neon templates. Just add your business name and we will provide you a proof within one business day.
---