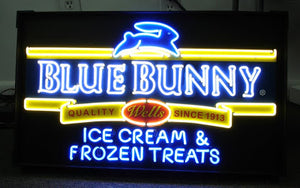 How to Buy a Custom Neon Sign
Custom neon signs can be a very visible and essential part of how a business advertises on a day-to-day basis. You see them in windows, on building walls, and above doors. They brand your business, tell customers what you sell, proclaim your shop is open and present a professional image.
If you are considering purchasing a custom neon sign you need to know the right questions to ask and the features to consider. The neon sign features you should consider should be driven by the business objectives you hope to meet by purchasing a custom neon sign. This "How to Buy a Custom Neon Sign?" blog will be a guide that can help make your buying decision easy.
A business identity can make or break you. Every year Fortune 500 companies spend thousands of dollars on ad agencies to brand their business. From the logo to the marketing materials to the interior design, every detail ultimately revolves round getting noticed. While a small business may not have the advertising budget of a McDonalds or Coca Cola, there is no reason that they have to miss out of the advertising potential of a custom neon sign that features their logo in neon. Neon lighting has been a part of the American marketing arsenal for over 87 years for good reason They are one of the most cost effective forms of advertising available adding zip to streets that go dark after 5 p.m.
1. Neon Sign Size
Purchasing a "neon signs" online is a great way to buy a custom neon sign. No matter where you are located in the United States a custom neon sign can be shipped directly to your door. However, understand that the size of the neon sign you purchase will be limited to the size that can be safely shipped by common courier.
You can safely ship a custom neon sign for indoor or outdoor use up to around 24″ x 31″ or 20″ x 37″ when shipping via UPS or FedEx. You will want to ensure the the seller guarantees safe shipping of the custom neon sign, as UPS and FedEx will not cover breakage of neon signs, even if you purchase insurance. Guaranteed safe shipping will ensure you receive a custom neon sign that works straight out of the box or the neon sign company will repair or replace it at their cost.
The size of your sign depends somewhat on your logo, artwork or amount of text. Popular sizes for text only custom neon signs are 13″ x 32″ and 20″ x 37″. As a general rule of thumb, your letters will be legible up to 38 feet away for every inch of letter height. Hence a 6″ lettering would be readable up to 200 feet away.
If you are needing a larger custom neon sign than cannot be shipped via courier, look to your local sign company. They will be able to assist you with specialized installations and generally offer a dedicated truck for delivery.
If you have your own design or logo, most neon sign companies will be able to adapt it to neon as long as the design is not to complex. You can often send you design to the designer as a hand drawn sketch, image or logo. Once you decide on a neon sign's lettering and graphics, neon glass benders begin handcrafting each design by heating, bending and shaping straight sticks of hollow glass, small portions at a time.
We are often asked to create "just a small". Customer often do not realize that the smaller the neon sign the more intricate the bending that is involved. It can take a glass bender years to obtain the skill necessary to bend a small intricate design, without cracking the glass when re-entering the fires. The smaller diameter glass necessary to achieve a small sign, is also more fragile and prone to breakage during shipping.
Neon glass sizes range form 8mm to 15mm. Interior neon signs are general done in 10 or 12mm glass, 15mm is used for border tubing and large outdoor channel letters. Small intricate designs are done in 8 and 9mm.
2. Neon Colors 
The two most common gases are neon, which emits a fiery red, and a mixture of argon and minute particles of mercury, which emits a subdued blue. Clear glass allows you to see the characteristic neon colors emitted by the gas. Fluorescent powders may be painted or baked to the inside walls of the glass tubing and the source light is then converted into a multitude of shades such as pink, turquoise, and green. By altering the mixture of elements, subtle differences are possible. For example, white is available in a wide array of color temperatures from warm to cool.
A neon designer can assist you with selecting colors that work well together for your custom neon sign. Some colors are more suitable for borders, others work well for text. For example, red neon letters are most readable, and account for its popularity in open signs. Purples and yellows are least readable and are usually recommended for borders. Black backings will also increase the visibility of your sign. Intense colors work well on an outdoor sign, but would be to bright in your home bar.
3. Neon Font Styles
A wide variety of font styles can be recreated from block to script. Details like serifs require a letter large enough to achieve the detail. If this neon sign will be used to promote your business, keep it simple. Try to limit the amount of words you use just to those that explain your business.
4. Neon Sign Cost
What does a custom neon sign cost? Cost is dependent on the size and detail of the sign. They generally range from $350  and up if using a template design. While neon's upfront costs can seem prohibitive, neon holds up surprising well and is one of the most economical forms of advertising over the long term. Don't expect to purchase a custom neon sign for less than $200.
The quality and craftsmanship of custom neon glass work shows in every sign. Ensure only premium UL listed components and UL2161 neon power supplies are used in your custom neon sign for long reliability, dependability and safety. You will see difference quality makes!
---