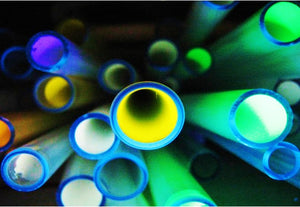 How Do you Get the Different Neon Colors?
The initial color source is the inert gas, which emits a characteristic color when electricity is applied. The two most common gases are neon, which emits a fiery red, and a mixture of argon and minute particles of mercury, which emits a subdued blue. Clear glass allows you to see the characteristic colors emitted by the gas. Fluorescent powders may be painted or baked to the inside walls of the glass tubing and the source light is then converted into a multitude of shades such as pink, turquoise, and green. By altering the mixture of elements, subtle differences are possible. For example, white is available in a wide array of color temperatures from warm to cool.

Tubing is also produced in colored glass. Deep clear reds, blues, and greens for example produce the richly saturated colors referred to as Classic glass. Colored glass may also have a fluorescent coating, which can change both the quality and color of the light. The result is a whole range of neon colors ranging from white to purple.
---