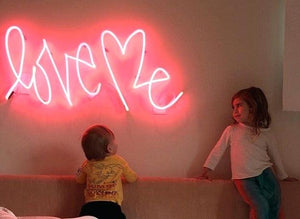 Flash a Little Neon in Your Bedroom
Neon signs were first discovered so many years ago in France. Ten years after its discovery, it made its way into America. At first, neon signs were the go-to for advertising, and before long every shop owner had a neon sign that invited you to come in for whatever services they offered.
Neon signs are frequently seen in front of many stores brightly drawing the attention of passersby. However, neon signs are now finding a new location to be displayed when someone thought it would be fun to put one in their bedroom.
Neon Sign Bedroom Decor
One of the emerging trends in home decor is the use of neon signs to decorate. When tastefully placed, a neon sign can blend in perfectly with any room, casting; it's a beautiful glow around and contributing to the overall look.
Many interior designers have become quite fond of adding a custom neon sign to their decor to spice things up. From family rooms to bedrooms, neon signs keep shining.
Celebrities that Have Neon Signs in their Bedroom
The new neon sign trend is heating up quickly, and now celebrities have joined the bandwagon. Several celebrities have decorated their bedrooms with cute neon signs.
Some of the celebrities that embrace this new trend include
1. Kourtney Kardashian
Kourtney Kardashian has one of the cutest neon signs in the master bedroom of her Californian home. Located just above the headboard of the bed, the brightly colored "Love Me" neon sign adds a splash of color and warmth to the room.
That's not all. Kourtney also has another neon sign in a place of honor in her handbag closet. The sign done in pink reads, "Need Money for Birkin."
2. Khloe Kardashian
Khloe Kardashian toed the same line with her sister by putting a neon sign in her daughter's room. The pink neon sign reads "Baby Thompson." It was designed in her mom's handwriting. Khloe didn't just have one made, she had two of the neon signs made for True's nurseries in Calabasas and Cleveland.
3. Hailey and Justin Bieber
The cutest celebrity couple right now has also bought into the neon sign trend. In white colors, they have one that reads "Love For Eternity." Either as a reminder of their forever love or as a highlight of what they want their love to be, the Biebers keep the words alive in their bedroom with neon signs.
4. Kylie and Kendall Jenner
The Kardashian-Jenner clan have bought into the neon sign trend with gusto. Most of their rooms sport a neon sign or two. Kylie not to be left out by her sisters got a neon sign for her daughter's room too. Kendall, her sister, also has one in pink right above her bed.
5. Elton John
The famous musician Elton John has given in to the neon sign trend and has one in a place of honor in his room. The sign reads "I know, I know, I know" and it glows in white.
6. Bethenny Frenkel
With the number of celebrities buying into this decoration trend, having neon signs in your bedroom will become the status quo. Bethenny Frankel is another celebrity that has a neon sign in her room that reads "I know it all" in glowing pink.
Neon signs are quickly making a space for themselves in the bedrooms of people. With your favorite celebrities decorating their rooms with neon signs, why shouldn't you?
Apart from the fact that, neon signs transform our rooms by giving them that extra zing, there are other advantages of having neon signs in the bedroom.
Neon signs can be a great night light, especially if you have kids. The glow of the tubes casts enough light to fight the shadows in the corner of your child's room. Convince your kids of the monster fighting abilities of the neon signs and watch them enjoy better sleep at night.
Neon signs are relatively cheap. The neon signs used as part of the room decor are custom made neon signs. Even as a college student on a tight budget, decorating your room with a neon sign is within your budget. An average custom neon sign can cost you 25 dollars. Neon signs are great and cheap to get.
Although neon signs might not be as popular today as they were in the nineties back when every shop had one in front of it, it isn't extinct. They have still found a way to stay in our lives gifting us with their bright colors and drawing attention to the important things in our lives.
---