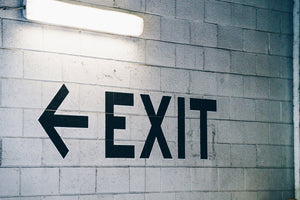 Escort Visitors Out the Door with a Neon Exit Sign
Ever want to tell someone exactly where to go? Ever have the feeling that he or she has overstayed their welcome and needs some gentle encouragement to head for the door? You don't want to be abrupt; you try to be polite (probably an annoying neighbor or a tipsy uncle), but they are making it difficult.
Well, there is one sign that is to the point and will deliver the message for you.
So most exit signs are not neon. They are tin boxes with some red glass behind which is a bulb. The typical exit sign is blasé and couldn't carry the i's dot. But, some realize that here is the opportunity for a statement. Escorting someone out the door with a neon masterpiece of design shows class and brings customers flocking back.
(Well…maybe people don't return because of a flashy exit sign, but they should.)
The point is that we live in a world that has fallen into a non-neon mundanity (okay that's not a word but lets think of it as a cross between mundane and insanity). Whereas creativity used to run rampant in the sign world—even the most insignificant signs are thought of as retro works of art today—now its just throw a screen up and play some video. How is that creative.
Neon is meant to be garish; to arrest the eyes, to make someone stop and consider the exit before they step through it.
As seen on the abundance of picker shows now populating the TV market (especially the History channel…what does picking have to do with history?) these simple testaments to a more creative past are going for some serious coin. Signs seem to be all the rage. People understand the value of a flashy past where people actually cared how they were told to leave the premises.
The point is old neon exit signs and other examples of this bygone era are considered retro chic and can really dress up a dull room.
---