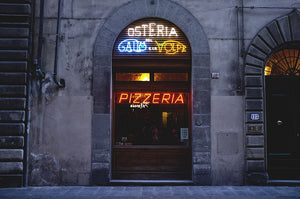 Celebrating Pizza Month with Neon Signs
One of the best times of the year is here – especially if you are a Pizza person. The fragrance of apples combined with the mouth-watering aroma of pizza has filled the air. What else would you want other than a yummy hot pizza to welcome fall? Red, green, and yellow shimmery neon signs have been used for years to lit up pizzerias.
After all, it's the "National Pizza Month."
Not only pizzerias, but other eateries have also taken down the old boards from their window shops. Now, pizza neon signs are flickering on the streets, eateries, and even offices and homes. Imagine sitting around a fireplace with friends and enjoying pizza. Is there a better way to celebrate the arrival of fall and pizza month?

National Pizza Month: What is it?
Americans love pizza. In fact, it wouldn't be wrong to say that Americans are a "pizza-loving" nation. We have "pizzas" to back our statement. Don't get confused. We are talking about pizzerias. It is estimated that there are over 63,000 pizzerias in the United States.
Also, 94% of Americans enjoy pizza at least once a month. These figures suggest that Americans devour 100 acres of pizza every day. Fun fact: Every second, 350 hot slices satisfy the cravings of pizza lovers in the US. Hopefully, you do not doubt the love Americans have for pizza now.
Many people attribute the arrival of pizza in the US to the first pizzerias in the country. However, the actual credit goes to the American soldiers who served in Italy during World War II. When they came back to the country, they brought home a "craving" for pizza, making it famous all over. The love for pizza has been growing ever since, and October is officially celebrated as the National Pizza Month. Let's get back to the celebrations.
Pizza Month Celebration with Neon Signs
Pizza month calls for some crispy and hot pizza parties with a "topping" of some "cheesy" décor ideas. Nothing sets the tone better for the Pizza month than glowing pizza neon signs and slices. Whether you are at home, office, a bar, or a pizzeria, those flickering neon signs are a must for celebrating pizza month.

Pizza All Night, and Why Not?
Celebrations are incomplete without having your friends around. Call them over and let the celebrations begin with a chicken pizza party. You don't have to worry much as you can easily get custom neon signs for your party. One glittery pizzaiolo (a person who makes pizza) neon sign with some sparkling pizza slices in hands might be the only décor you need.

Spice Up the Workplace with a Pizza Slice
Working in the office can be quite boring when there is so much happening outside. But who said you have to celebrate pizza month in a pizzeria only and not your workplace? Turn your office's cafeteria into the perfect party place for pizza month celebration. From small slices to large sparkling pizza neon signs – little additions to the eating space can create the perfect ambiance.

Midnight Cravings and a Pizza Neon Sign
If you are not meant to have pizza at midnight, you can at least have a pizza neon sign by your side. The kitchen is an ideal spot, but who likes to go to the kitchen at midnight? You can have a small pizza neon sign placed in your room for a visual treat at night. However, it may tempt you to order a pizza in the late hours. But since it's month, you can afford to satisfy your midnight cravings with a pizza slice.

Pizza - Your Companion
There are so many reasons to love pizza. "Pizza feeds you; pizza makes you happy, pizza stands by you," and most importantly, "pizza doesn't ditch." So, why not celebrate the pizza month with all your heart? Set up a pizza date for your partner and maybe propose him/her over a pizza under a glowing pizza neon sign. After all, it's pizza month, and there is no harm in being a little cheesy.
Here's a Friendly Advice
However, before executing this plan, make sure that your partner shares the same love for pizza as you do. Otherwise, the night may get darker for you even when the neon signs keep glowing.
Final Words
Gone are the days when neon signs were used by businesses only. Now, you can also brighten up your living space with vintage, chic, and bright neon signs. The catchy lights and the radiating colors of neon signs can make an otherwise dull place into an electrifying party spot. For pizza month celebration, there are so many options available when it comes to a neon sign. You may also get custom neon signs as a topping for your celebrations.
---