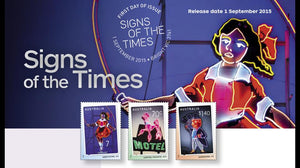 Australia Releases Collectible Neon Sign Postage Stamps
The country of Australia recently announced its very own series of commemorative neon sign postage stamps – showcasing three of their historic neon signs.
The Skipping Girl, known as Little Aubrey, erected in 1936 as an advertisement for Skipping Girl Vinegar. The sign depicting a young girl playing jump-rope and instantly captured the eyes and hearts of all of Melbourne. The current sign erected in 1970 is not the original sign. The original was removed in 1968 when the company moved. Regarded as a local landmark, public outcry followed its removal. In response to this a campaign was undertaken to reinstate it. With the involvement of businessman John Benjamin, a new slightly smaller Little Audrey sign was reinstated on the roof of Benjamin's Crusader Plate Company, a short distance from its original location. Officially declared a Victorian Heritage Icon by the National Trust in 2007, the Skipping Girl Sign is the first animated neon sign in Australia and is included on the Victorian Heritage Register which lists the most significant places and objects. In 2012, Little Audrey was converted to solar power to skip 16,000 times every night powered by energy built up during the day from sunlight.
After World War II, Queenland's Gold Coast because a popular honeymooners destination. The Pink Poodle, built in 1967, to adorn the Pink Poodle Motel became synonymous with the surfers paradise. The motel was demolished in 2004, but the sign was saved and moved to a nearby location.
The Dandy Pig was erected in the 1950s for the Gippsland Co-operative Bacon Curing Company. The illuminated sign features a finely dressed Mr Pig in formal morning dress, doffing his top hat to welcome people to Dandenong, Victoria. After the company closed in 1983, the sign was placed in storage before being restored and re-erected at the Dandenong Market in 1993, as acknowledgement of the sign's social, cultural and historical status.
---