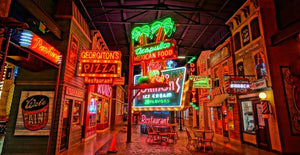 A Roof Over Your Head
Well maybe not for long.... if repairs are not done soon. While busy planning the build-out of the 
American Sign Museum
 annex, the annex roof was busy decaying.  Recent torrential downpours have brought the roof to a critical point, and they need to act now to secure it.  Estimated cost: $325,000.
Sol Hurok said "The sky's the limit if you have a roof over your head."  We tend to agree. 
Thankfully, a VERY generous donor has contributed $150,000 toward securing the roof and is challenging museum supporters to raise the additional $175,000 needed to complete the job!  We love the American Sign Museum. We would love it to be even bigger to accommodate the museum's ever-expanding collection. The current space features 19,000+ square feet of exhibit space, 28-foot ceilings able to display the museum's large signs, working neon shop, flexible event space, and an extensive archive of books, photos, and documents reflecting the art and craft of sign-making. 
We ask for a little support from anyone that would like to help the American Sign Museum continue their mission of preserving historic American signs and their stores. To repair the historic Machine Flats annex roof that will double the size of the museum (an additional 20,000 square feet), please make a tax deductible 
contribution today
.
---