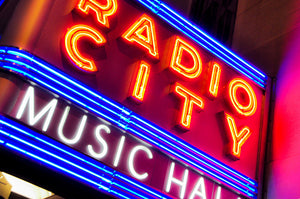 A Neon Sign in Times Square New York
Times Square in New York City has always been a place where people can find a good time, though that good time has changed drastically since Giuliani cleaned it up, and a place where advertisers know the value of a good neon sign. Alas marketers have forgone the tried and true for the latest and greatest. Every advertiser now believes in the value of video boards on store fronts rather than colorful artistic neon signs.
Where did all the neon go? It did not all leave. There are still plenty of advertisers who use neon (McDonald's is one) to advertise what they are and the uniqueness of their product. The Square does sometimes hearken to its classic past and introduce a new neon glass masterpiece for people to wonder at.
Besides all of the video boards and scrawling ads, there are some businesses that realize the value of good long lasting signage. The city put up a giant flag made of neon that graced a sidewalk leading into Times Square and showed the city's patriotic soul. Neon is also used beside the large boards in more subtle ways, not as the major advertisement, but to add color and grace.
One sign still shines bright, although it is just off of Times Square (less than half a mile away, at Radio City Music Hall. The sign that continues to showcase the front of one of the most famous buildings in New York City features neon lighting. It is iconic because of its relation to the theater district and the cultural heart of the city.
Just as neon has showcased everything from the dens of the city to the heights of culture and fashion, it has become an icon of America. New York is still America's showplace, and what better advertisement than a richly dramatic neon sign.
---